Share
InFlux
Contemporary Art in Asia
First Edition
Edited by:
Parul Dave Mukherji - School of Arts and Aesthetics, Jawaharlal Nehru University, New Delhi
Naman P. Ahuja - School of Arts and Aesthetics, Jawaharlal Nehru University, New Delhi
Kavita Singh - School of Arts and Aesthetics, Jawaharlal Nehru University, New Delhi
---
November 2013 | 288 pages | SAGE India
InFlux: Contemporary Art in Asia brings together essays by leading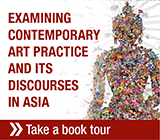 critics and curators to examine modern and contemporary art practice and its discourses in Asia. Covering diverse regions spanning China, India, Thailand, Iran, West Asia, Pakistan, Kazakhstan, Hong Kong, Tibet, and Cambodia, the book examines their multiple modernities and the arrival of many Asia's upon the contemporary art scene.
Some centers have become celebrated in the international exhibition circuit and the art market, but there is also an Asia beyond their ambit, and the book throws light upon major and minor, established and emergent geographies of art. Asia's own internal minorities fracture any unified sense of place, and representing this diversity has become a major challenge for today's curator.
What is the impact on contemporary art of state power and burgeoning economies, or the persistent stereotypes of Asian craftsmanship, exoticism, and religiosity or the new ones of terrorism and tourist paradise? The book aims to challenge some of these perceptions by viewing modern and contemporary Asian art not as a given field but as a project in flux, constantly under revision via art practice and curatorial interventions.
General Introduction

Geeta Kapur
Parul Dave Mukherji
I: CONTESTED TERRAINS AND CRITICAL RE-IMAGININGS
The Illusions and Antagonisms of Civilizational Exchange: Critical Reflections on Dismantling Asian Empires

Rustom Bharucha
The Elephant and The Ant: Chinese and Thai Art in the 1980s and 1990s

John Anthony Clark
Worlding Asia: A Conceptual Framework for the First Delhi Biennale

Arshiya Lokhandwala
Cartographic Necessities: Contemporary Practices and the Making of a Brave New World

Gayatri Sinha
Curating Barbarians: Descriptions of a Visual Practice

Marian Pastor Roces
Naman P Ahuja
II: TROPES AND PLACES
Miniature, Monster, and Modernism : Curating Terror or Terror of Curating

Quddus Mirza
An Honest Engagement with the Pitfalls (and Perks) of the Ethnic (Rubric)

Negar Azimi
Retrieving the Far West: Toward a Curatorial Representation of the House of Islam

Ranjit Hoskote
Interrogating the Sacred: Storylines for the Self

Nancy Adajania
The Art of Kazakhstan as a Political Project

Valeria Ibraeva
Kavita Singh
III: INTERVENTIONS IN THE PUBLIC SPHERE
Curating Across Agnostic Worlds

Geeta Kapur
The Untold (the Rise of) Schisms

Shaheen Merali
Mapping the Trajectories of Minoritarian Aesthetics and Cultural Politics

Santhosh S
Excavating the History of the Present: Caste as Pictorial Sign in the Works of Savi Sawarkar

Y S Alone
Curatorial Work as Collective Fabrication

Oscar Ho Hing Kay
Archival Malpractice and Counter Strategies

Charles Merewether
A pleasure to browse...it defines a lifetime of service and thought. It can stimulate our minds, footnotes and ambition.... beautifully designed...the images are uniformly well reproduced...provides an intriguing glimpse into three important stands in the growing discourse on contemporary art as it churns in India, challenging readers to come to terms with the concerns central to this vibrant scholarly discussion.